Design and Build with an Eye to the Future
Living in our homes
independently and comfortably
for as long as possible is everyone's wish. Changing American demographics indicate that we are
living longer, more active lives
, so designing homes that accommodate this goal is more important than ever.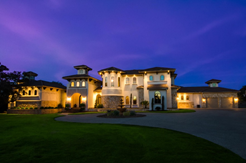 Using an architectural practice called
universal design
(UD)
allows homeowners of all ages and capabilities to achieve this goal with subtle yet functional and affordable design.
Implementing UD features is also a good investment because it often offsets the cost of moving to an assisted living facility, which may no longer be necessary or which may be delayed. The one-time cost of a universally designed home is about the same as the cost of a one-year stay at an assisted living facility.


Additionally, UD accommodates individuals with special needs such as sustaining injuries, bad backs, and even small children. And if you decide to move for whatever reason, adhering to UD principles can increase the resale value of your home.

Far from the images of an institution or a hospital, UD features included with proper planning and implementation go relatively unnoticed until they are needed. Then when that time comes, you will be glad that your builder had the foresight and knowledge to address your long-term needs.


Here are a few elements of good universal design that you should consider in your new or remodeled home:
CABINET FEATURES: Regardless of your age or capabilities, the use of bigger base cabinets with pull-out shelves is an increasingly popular option for tall and upper wall storage. Contents are more visible and accessible.

Accessories such as lazy susans, door shelves, slotted drawers, and flip-down fronts enhance the storage capacity and accessibility of kitchen cabinets and bath vanities. Soft-close drawers on newer models of cabinets protect against pinched fingers and are quiet and more convenient.

Pull-out drawers instead of cabinets are also a good idea in all rooms and not just the kitchen. They are easier to organize, see or reach into, and open.

HARD-SURFACE FLOORING: Using a combination of hardwood, polished flat tiles, and resilient floor surfaces will not only make your house easier to clean and move across but will also promote healthier indoor air quality. Use area rugs to soften surfaces.

LEVER HANDLES: For doors, sinks, and showers, a single-lever handle instead of a knob is both fashionable and easier to manipulate. A lever is a better option when you have an armful of groceries, are just able to reach the handle (kids), or lack strength for gripping.

For faucets and showers, levers allow

easier temperature control

, which mitigates scalding hazards. D-shaped handles or grips on cabinets are also easier to open.

APPLIANCES:

Wall ovens and warming drawers, dishwasher and refrigerator drawers not stacked but set side-by-side, French door style refrigerators, and microwave ovens with flip-down doors are just a few examples of appliances that are not only popular but also deliver the

UD benefits of better accessibility and increased safety.



MORE OPTIONS:

Wider doorways
Lower light switches
Improved lighting
Stepless entryways (also a plus for baby strollers)
Waist-level access in kitchens and bathrooms

If you are considering universal design features in your new or remodeled home, discuss them with your builder or designer during the planning stages so they will be included in the final plans and estimates. Then get ready to enjoy your home for many years to come.



HAVE A WONDERFUL THANKSGIVING!